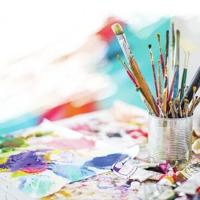 Art Notes | News | triplicate.com
Extension of the art exhibition "The way I felt"
DNACA's Art in Public Places program features "The Way I Felt" by artist Emmaline (Mary Baker), which was featured in DNACA's 30th Annual Art Show. Emmaline's award-winning art is created with a unique felting process to create bold and colorful images. The exhibit has been extended through January 27 at the 2nd Floor Mezzanine of CEC Airport at 1650 Dale Rupert Road, Crescent City. The exhibition can be seen during the opening hours of the airport terminal: from 6 am to 8 pm on weekdays, from 6 am to 10 am and from 5 pm to 8 pm on Saturdays and from 6 am to 2 pm and from 5 pm to 8 pm on Sundays. For more information, contact DNACA at 707-464-1336 or [email protected]
DNACA 40th Anniversary Performance Series Season Tickets
There's still time to purchase season tickets for the Del Norte Association for Cultural Awareness series of shows. When you purchase a subscription, you get seats to all of DNACA's season concerts, featuring live performances from a wide variety of world-class artists, including blues and soul, world music/ dance/storytelling, vintage jazz and comedy, hypnotic tango and dance, and a comedian "seated" at the piano. Tickets and information about each concert are available at dnaca.eventbrite.com.
Crescent City Art at 1228 2nd St., Crescent City, is open to the public Wednesday through Saturday from 11 a.m. to 4 p.m. The gallery's artist of the month is photographer John Barker. Member art exhibits also include spray paint artist Spencer Bishop at the Del Norte County Library, watercolor artist Pauline Lodolini at the Smith River Library, and an exhibit by various artists at the Infusion Center of the Sutter Coast Hospital and in the main hall of Sutter Coast Hospital. For more information, call 707-460-1414.
Crescent Harbor Art Gallery
The Crescent Harbor Art Gallery's Artist of the Month is Priscilla Andrews, who works in a variety of media such as painting and original stoneware pottery. She also designs metal work pieces, which are then brought to life by Andrew's Ornamental Iron in Grants Pass, Ore. The gallery is located at 140 Marine Way and is open Tuesday through Sunday from 11:30 a.m. to 4 p.m. Face coverings are mandatory. For more information, call 707-464-9133 or visit the updated website www.crescentharborgallery.com.
Basic composition for improved art and photography
Saturday, February 12, at 1 p.m., join fellow artists on a journey to learn about improving your art through better composition. The cost of the course is $25 and a space reservation is required. The class will also include information on knowing animal behavior for enhanced photos. The class will be held at Crescent City Art at 1228 2nd St., Crescent City. For more information and to reserve your space, call 707-460-1414.
The Arts and Culture Gallery
The Gallery of Arts and Culture at 175 H Street features the oil paintings of award-winning artist Daniel Desmond. While Dan and his artist wife Marianne Strehler moved to Crescent City several years ago, he has been painting in oils for over 60 years and focuses primarily on landscapes and seascapes. The gallery is open from 11 a.m. to 6 p.m. Tuesday through Saturday, and masks will be required inside the gallery at all times.
For Community Arts Calendar listings, please visit www.dnaca.net. To be included in the art scene lists, articles must be sent to the Del Norte Association for Cultural Awareness (DNACA) at [email protected] by Friday of each week.