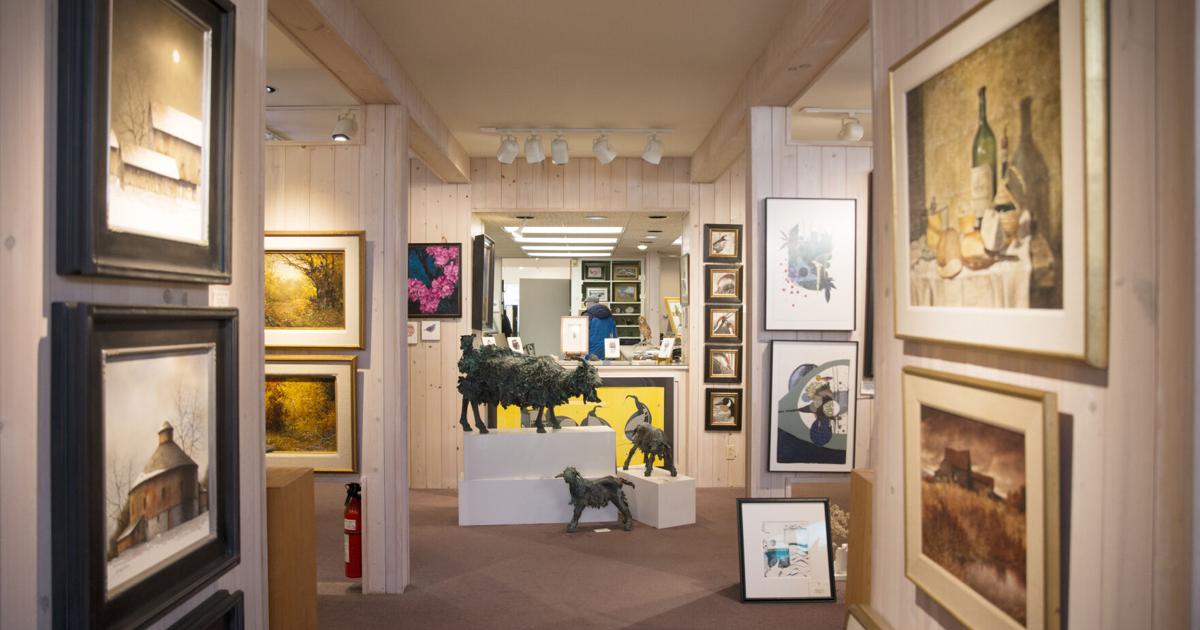 Still a feast for the eyes at 50: In business for 5 decades, Tilting at Windmills Gallery remains a showcase for art, artists | arts and culture
It's not every day you turn 50. Cervantes knew it. Don Quixote knew it. Even this humble journalist knows it (50 happened to me in October).
In business in Northshire since 1971, Tilting at Windmills Gallery celebrated its 50th anniversary late last year with an open invitation to the community for a COVID-free art exhibition.
The gallery has long been home to 24 Highland Ave., with artwork on view year-round in person, even by motorists passing Depot Street. Gallery owner Terry Lindsey, the third in five decades, took the time last week to show Vermont News & Media how the space — and its artists — has evolved over time.
A successful singer, painter and business owner, Lindsey is one of the lucky few with multiple skills. The modest Lindsey does not call herself a saleswoman, but rather allows the art to speak with art lovers, viewers and buyers.
"I don't talk to anyone about anything. I'm not that kind of salesman. I want you to say, "I love it," Lindsey said. "Love" often comes up for Lindsey: she loves her art and her artists, and said she wouldn't sell anything she didn't like herself.
Though less since COVID and more with part-time help, Lindsey still takes his framing work upstairs, himself a de facto gallery within a gallery, painting after painting laid here and there on shelves, tables, leaning against the walls. There are scenes from Africa and New England, and worlds, real and imagined, in between.
"It's not pretty, but it's the work area and everything to do with backstage storage," Lindsey said. "Love the place. I like everything here.
The art inside Tilting ranges from classic to postmodern, from rural Americana to finely detailed oil paintings that echo the precision and line of the Wyeth clan. Prices at Tilting range from around $150 to over $79,000, so it has something attainable by all levels of art lovers and aficionados. Don't treat a painting like an investment, she intoned.
"People say, 'Well, if I buy this, am I going to get my money back?' It's just not my style. It's not my goal, to convince someone that they need something they don't really have. I'll probably tell them all about the artists, the art and method, and that's what they love. And sometimes they love the stories that go with the art, which happens a lot," Lindsey said.
Some of the artists are local – like Lindsey, whose own oil paintings adorn a small section of the gallery – with others from New England and overseas. There are the whimsical mice of Stuart Dunkel, the austere rural northeast lines of A. Hale Johnson, and viewers can even follow the path of refinement of Gunter H. Korus and Gerald Lubeck, who each demonstrated a rise from country canvas to high art status, and dozens more.
"Lübeck was local. He passed away in 2019. Jerry was amazing. He brought boxes of art, especially small ones. It's all his, even those abstracts on the floor," Lindsey said, pointing to a few Lubeck paintings. "He could do anything. And he was with the gallery for 47 years.
Lindsey recalled a time when she and Lubeck were talking and he criticized someone's abstract artwork. "And I said, 'Jerry, let me see what you can do.' And he made them, and I love them. Very cool," Lindsey said.
Lindsey and her husband, Al, a retired emergency vet, moved from Middlebury in Northshire more than 30 years ago to settle in Dorset.
"I was going to do something and I want to develop my craft," Lindsey recalled.
She approached the gallery's second owners, landing a part-time job.
"They were looking for someone to work part-time, so they could have the day off. I wanted to learn how to frame… that was my goal. And I fell in love with the place when I arrived," Lindsey said.
She loved the gallery experience so much that before buying Tilting at Windmills, she first developed her Equidae Gallery in Saratoga, which operated at a breakneck pace for a month and a half a year for 15 years, coupled with horse racing season.
"It was a mixture [of art], but he relied on the horses a lot," Lindsey said. "Saratoga was great. It was very successful for me and took a lot of work. For six weeks, every day I commuted from Dorset, and it was like 10 hour days.
The wide selection of art, including horses, continues at Tilting, one of many American businesses that has benefited from the pandemic as people have spent more time at home, redecorating and adorning their walls with art.
Lindsey's personal loves also adorn the walls. Her own paintings include oils of her husband and her precious dog, Wren.
"It's my puppy. She is special. She is my luck. And then here are a neighbor's flower pots that I adore, so I painted this," Lindsey said of her traditional style.
She studied art in school, but also enjoyed training with some of the deceased artists who line the walls of Tilting.
"I studied with Hale [Johnson]. I studied with Gunter [Korus]. I studied with other artists and a lot of other places, all wonderful," said Lindsey, who adds that she didn't get an arts degree. His 'Poppies', an 11-inch by 11-inch oil on linen, show off his abilities, as do a number of his own painted and bronze works.
A recent painting of her compiles and stacks all the words of 2020, laden with pain and hope, in a priceless 40-inch by 48-inch oil on linen.
"It's called 'A Few Good Words'. It's very therapeutic. I was extremely tired from the negativity and all the anger, and it was just too much. And so every night I would go home and add a few words," Lindsey said. "I put my grandchildren in the top right, for posterity. I didn't sell it, but I make commissions for like-minded people. Because my grandkids are in it, I really don't know if I can sell it. I hope it's striking as a reminder of the words we should have in mind.
Born in Hartford, Connecticut, Lindsey said her children all flew into the co-op, settling across the country in Minnesota, Montana, Oregon and California, as pandemic isolation made the even longer distance.
Jordan and Derry Dickinson, from Dorset, stopped in Tilting on January 19 to view some art on a cold winter's day. The Dickinsons said they were grateful the gallery had lasted for five decades.
"It's great to come here and support local business," Derry said.
They've been coming to the gallery since the early 2000s and befriended Lindsey and her husband, attending the same church.
Derry said she loves Lindsey's Tilting email which arrives every Sunday, catching up on the gallery's latest sales and acquisitions.
Tilting at Windmills Gallery is next planning a solo exhibition by notable oil painter Michael Fratrich, which will open on March 19. Masks are requested during gallery visits. Le Tilting is open every day, except by appointment only on Wednesdays and Thursdays. Call 802-362-3022 or visit tilting.com for more information.